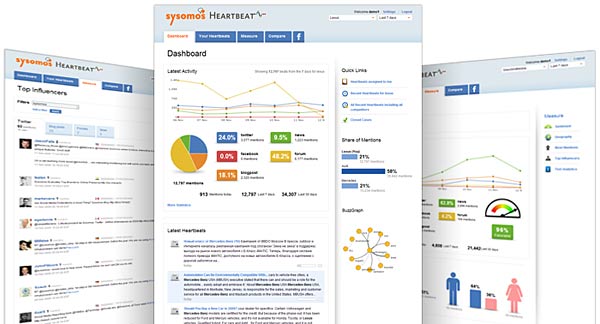 A screen grab from Sysomos.
A comparison of the major monitoring & engagement services: Radian6, Lithium, Attensity360 & 17 more
Target audience: Brands, corporations, mid-size to large businesses. See Socialbrite's series on social media monitoring:
• Guide to monitoring social media conversations
• 20 free, awesome social media monitoring tools
• 10 paid social media monitoring services for nonprofits
By J.D. Lasica and Kim Bale
insidesocialmedia.com
The online landscape is saturated with more than 200 tools and platforms claiming to be able to help you track and assess mentions of your business or brand in social media channels. While there remains a lot of churn in the field, a number of listening platforms have evolved to help you go beyond basic monitoring into an integrated approach that helps inform multiple parts of your business: product development, customer support, public outreach, lead generation, market research and campaign measurement.
Born as a way to respond to crises and manage brand reputation, social media monitoring, or brand monitoring — which ties into social media measurement and analysis — is finally maturing into a business process that helps the bottom line.
A comparison of pricing, features & clients you rarely see on the open Web.Today we'll turn the tables on these companies and offer some business intelligence that you rarely see available on the open Web: a comparison of social media monitoring vendors, with descriptions of their strengths, clients and pricing. Many offer end-to-end solutions, providing not just tracking capabilities but a rich set of analytics and response tools to help you grow your business and engage with individuals who influence broad swaths of the market.
Social media monitoring vendors come in all shapes and flavors. Some cater to small business with modest budgets that want to handle monitoring analysis internally. Others service global corporations that want access to expert analysts as well as a robust suite of social tools that plug into business processes. So this roundup is admittedly mixing apples and oranges. (See our discussion of social CRM below.)
To draw some distinctions, we've broken this package into two groupings:
• 20+ social media monitoring & engagement vendors for business (below)
• 10 lower-priced monitoring services for nonprofits & organizations (on our sister site, Sociabrite.org)
Monitoring should plug into your business processes
Companies that will succeed in the 21st century will be social businesses, committed to forging deep and meaningful relationships with their customers. So use the new year as a fresh impetus to create a Social Media Plan (insidesocialmedia.com can help with that), begin monitoring and consider evaluating an outside vendor by signing up for a free trial.
Keep in mind: Listening to conversations and gathering data is only one phase of a multi-step process that also involves engagement, metrics and acting on what you learn. As Jeff Nolan writes, "In its most pure form, social media monitoring is both listening and responding to social channels."
Here is our guide to the Top 20 Social Media Monitoring Vendors for Business. Have your own favorites? Please add them in the comments below! And if you have any corrections or updates to the information here, please share that as well.

Radian6/Salesforce Cloud: A proven solution for big brands
1Radian 6, purchased by Salesforce in 2011, works with brands to help them listen more intelligently to your consumers, competitors and influencers with the goal of growing your business via detailed, real-time insights. Beyond their monitoring dashboard, which tracks mentions on more than 100 million social media sites, they offer an engagement console that allows you to coordinate your internal responses to external activity by immediately updating your blog and Twitter and Facebook accounts all in one spot. Fully automated. Cost: The dashboard starts at $600/month, though registered nonprofits can apply for two free uses per year under the company's Giving Back program. They also offer free trials to students and educators for research and project purposes. Radian6 uses a monthly subscription based pricing model, with the monthly fee varying depending on the number of topics monitored each month. Clients: Red Cross, Adobe, AAA, Cirque du Soleil, H&R Block, March of Dimes, Microsoft, Pepsi, Southwest Airlines — a wide range of clients. Owner: Independent. Also: See our interview with the CEO of Radian6.
Social CRM or simply monitoring services?
In this overview I sought to avoid the insidery, wonky discussion around social CRM (customer relationship management), but it's worth a quick mention. Paul Greenberg, organizer of the first Social CRM Summit last year, explains SCRM this way:
Social CRM is a philosophy and a business strategy, supported by a technology platform, business rules, processes and social characteristics, designed to engage the customer in a collaborative conversation in order to provide mutually beneficial value in a trusted and transparent business environment. It's the company's response to the customer's ownership of the conversation.
Jacob Morgan, principal of Chess Media Group, points out that social CRM means different things to different people. While the vendors listed above offer robust social media monitoring and listening tools, they plug into their clients' business and social CRM processes in different ways (see Chess Media's chart above and its free Guide to Understanding Social CRM).
"Two years ago, all the vendors you mentioned called themselves social media vendors," Morgan said. "Now that social CRM is the hot term, all of the vendors simply changed the name from social media to social CRM. Everything else is the same."
Other paid social media monitoring solutions
There are literally dozens of social media monitoring services in the marketplace, so this roundup is meant as a guide to the top-tier vendors rather than a comprehensive list. If you've had success with other vendors, please mention them in the comments below.
Disclaimer: We have worked with some, but not all, of the companies above; in such cases, we've based our assessment on recommendations from colleagues, pricing and perceived value. Please note that many of the other monitoring vendors listed outside the Top 20 also deserve consideration, based on your company's specific needs, costs, features and if you find a good cultural and personality fit.
Our accompanying piece in this package on Socialbrite, 10 paid monitoring services for nonprofits and organizations, offers short capsule reviews of Trackur, Thrive, eCairn, Hootsuite, BuzzStream and other monitoring services.
You may have good results with some of these additional services:
• Amplified Analytics: This tool is geared chiefly toward product reviews and marketers interested in tracking reviews across multiple sites.
• Appinions: "Automatically filters and aggregates thoughts, feelings and statements from traditional and social media."
• Atlassian: Australian-based software company with global reach, offers tools to track, test and collaborate on the social Web.
• Bit.ly Pro: The Pro version offers custom short links like pep.si (for Pepsi) and 4sq.com (for Foursquare), a dashboard that lets you monitor the real-time aggregate traffic of your shared content across the bit.ly universe, and easy integration with tools like Tweetdeck and CoTweet.
• Cision: Cision (formerly Bacon's Information) monitors social, print, broadcast and online media outlets, then organizes the information, which a dedicated analyst delivers to a company's in-box every day via an executive news briefing. Cision searches more than 100 million sources to assess conversations about a brand. Clients include UCLA, Gerber and R&R Partners.
• CustomScoop: BuzzPerception: A veteran in the media monitoring space, CustomScoop monitors traditional and social media, calling themselves the "leading application for online news clipping." BuzzPerception includes a phase of human filtering to generate the most relevant results for a brand. Pricing starts at $299/month. Jen Zingsheim, a representative, provides this update: "While we started out as a traditional media 'clipping service,' we've been including blog content for years and also monitor Twitter, Facebook, YouTube and more. We can tailor reporting to fit client needs, and have a robust suite of analytical tools, too — along with a free, 2-week trial to see if we fit your needs."
• Digimind: Digimind designs and develops Digimind Evolution, a Competitive Intelligence Management software platform that enables companies to deploy and to manage competitive intelligence units and projects.
• Dow Jones Insight, owned by News Corporation, touts a wide array of languages and geographies, a global footprint and a less-than-stellar dashboard. Its hefty $5,000/month pricetag is based on the fact that it's heavily based on analysts' involvement.
• Evolve24 is a competitive listening platform that specializes in reputation management. Evolve24 is a smaller player in the market with only about 20 customers but its customer base consists of large enterprise-level installations.
• FindAgent: Founded in 2002, UK-based FindAgent specializes in digital media monitoring and media analysis. Focusing purely on online content, the company, owned by OpenAmplify, has developed technologies to find, analyze and manage mentions in social media and traditional media. More than 500 companies use FindAgent's semantic text analysis technology.
• iCrossing is a global digital marketing agency that combines talent and technology to help world-class brands find and connect with their customers.
• Jive: Jive Software, which acquired Filtrbox in 2010, offers a host of social media monitoring options.
• Moreover Technologies: Moreover and its Newsdesk 4 offer tools for media monitoring, reputation management, market and competitive intelligence and content sharing from 1.8 million sources.
• MotiveQuest: At the high end of monitoring services, MotiveQuest typically charges $70,000 per project, according to published reports. CEO David Rabjohns says MotiveQuest provides a full range of services. "You don't have to use a dashboard. Just come to us with a business problem and we will help you find relevant insights. The core of our approach is digging beneath the buzz and the sentiment to identify primal human motivations. We have identified that these most strongly affect sales and share." Clients include Microsoft, Nike, Citi, Audi and Kraft. MotiveQuest is positioned in the Strong Performer category in a 2006 Forrester report and it has a Slideshare presentation on leveraging motivations in social media.
• MutualMind: A relative newcomer, MutualMind helps marketers, agencies and PR firms track discussions, understand sentiment, identify influencers and use the resulting insights to improve positioning and marketing strategy. Pricing ranges from $500 to several thousand dollars per month.
• NetBase offers social media analysis tools that help marketing and sales professionals to understand consumer opinion, emotion and behavior online.
• Nimble is an LA-based start-up due to come out of private beta soon with a promising set of monitoring capabilities across multiple networks. Says Nimble's Maria Ogneva: "We tie monitoring to the customer record. The real beauty is that you can monitor based on a keyword, respond as you need and even create a task right from the social media mention — whether it happens to be a tweet, FB message, LI message — which can be edited, calendared, delegated and commented on for team workflow that ties back to the record — the key ingredient here."
• Optify is a real time marketing applications suite that offers several features to help you track, monitor and measure the success of your social media activities.
• ReputationDefender: The company offers four suites of online reputation management and privacy controls.
• RepuMetrix specializes in tracking online mentions that are perceived to be harmful to a brand's reputation. Pricing starts at $350/month for one user.
• RepuTrack: RepuTrack is a reputation monitoring service that tracks and analyzes the conversation around a brand and delivers it in an actionable way.
• SAS Sentiment Analysis Manager: Part of SAS Text Analytics program, the Sentiment Analysis Manager "crawls content sources, including mainstream Web sites and social media outlets, as well as internal organizational text sources [and] creates reports that describe the expressed feelings of consumers, customers and competitors in real time."
• Sentiment Metrics: United Kingdom-based company provides tools to listen to consumer conversations across more than 20 million blogs, 5 million forum posts and 30,000 online news sources, social networks and microblogs, including Twitter. Clients include Sony, Subaru and HSBC.
• Trendrr: Mostly focused on the entertainment community, Trendrr lets you track the popularity and awareness of trends across a variety of channels, ranging from social networks to blog buzz and video views downloads, all in real time. You can also have Trendrr do a Social Media Audit, providing an analysis of your social media presence, dissecting volume of mentions, sentiment, links, influencers, demographics and more. Pricing: $499 and $999/month, with enterprise package beginning at $2,499/month. NBC Universal's Oxygen TV show "Bad Girls Club" is a client. Owner: Wiredset LLC.
Look for a shakeout in the field very soon. Other monitoring services include Attensa, Beevolve, blueReport, BrandsEye, Buzzient, CustomScoop, CyberAlert, Memery's Dialogix (from Australia), Filtrbox, Imooty, Infegy Social Radar, InfoNgen, Ingage Networks, Jungle Torch, Lexalytics, ListenLogic, Looxii, Market Sentinel, MediaMiser, MutualMind, Networked Insights, Noteca, Position2 Brand Monitor, Press Army, ReputationHQ, Scup, Silverbakk, Social Report, Sprinklr, StrategyEye, Synthesio, Trendrr, Viralheat and Whitevector.
— Maria Ogneva, who heads up social media for Nimble, provided input for this article. Updated and revised on Jan. 13, 2011.
Related
• Radian6 and the Yellow Brick Road for Brands — our interview with the CEO of Radian6 (insidesocialmedia.com)
• Spredfast: A tool to organize your conversations (insidesocialmedia.com)
• Biz360 (now Attensity360): Tracking business intelligence (insidesocialmedia.com)
• Top 10 social media dashboard tools (Socialbrite)
• 14 free tools to measure your social influence (Socialbrite)
• Social media monitoring: Articles (Socialbrite)
• Social media metrics: Articles (Socialbrite)
• The Forrester Wave: Listening Platforms, Q3 2010 (PDF)
JD Lasica, founder of Inside Social Media, is also a fiction author and the co-founder of the cruise discovery engine Cruiseable. See his About page, contact JD or follow him on Twitter.