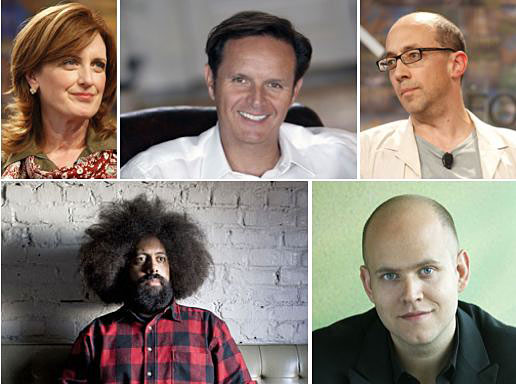 Some of the speakers at Fortune: Brainstorm this year.
Guide to events & conferences for the coming month

Here's our roundup of social media, tech and marketing conferences and events for the month of July. Lots of great gatherings on tap.
For the full year, see our full Calendar of 2011 social media, tech and marketing conferences.
Hope to see you at some of these! If you know of other must-attend events, please share by posting the info in the comments at the bottom.
Conference
Date
Place
July
Project SEARCH
July 11-12
Minneapolis, Minn.
This fifth annual conference from QuestWorks in Orlando, Fla., serves as an opportunity to convene The Project SEARCH team's international network of partners for a week-long offering of education, training and shared learning and planning to assist new and existing program sites in executing the Project SEARCH model to its fullest potential. Register here.
AAAI Conference on Weblogs and Social Media
July 17-21
Barcelona, Spain
ICWSM, the fifth international conference on weblogs and social media, put on by the Association for the Advancement of Artificial Intelligence, brings together researchers from computer science, linguistics, communication and the social sciences.
CleanSlate
July 19
New York
CleanSlate 2011: Marketing and Media in the Tablet Economy is a one-day thought-provoking BtoB conference designed to explore the rapidly changing world of media consumption and advertising in the new Tablet Economy.
Fortune Brainstorm Tech
July 19-21
Aspen, Colo.
Fortune Brainstorm TECH is a marketplace of ideas that assembles top technology and media thinkers, operators, entrepreneurs, innovators and influencers. These leaders inspire a conversation that informs Fortune's editorial coverage throughout the year.
OSCON
July 25-29
Portland, Ore.
The O'Reilly Open Source Convention assembles the best, brightest and most interesting people to explore what's new and to champion open source adoption across the computing industry. Participants from the vast, diverse community will come together to learn, collaborate and inspire each other.
Summit at Stanford
July 26-28
Palo Alto, Calif.
AlwaysOn's annual gathering of tech power brokers, VCs and business folks, held on the Stanford campus.
JD Lasica, founder of Socialmedia.biz, is now co-founder of the cruise discovery engine Cruiseable. See his About page, contact JD or follow him on Twitter or Google Plus.