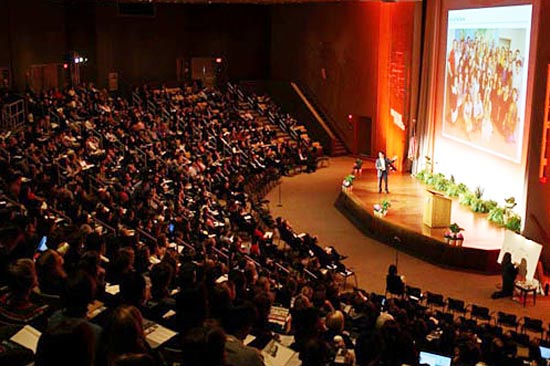 The Social Enterprise Conference will be held Feb. 25-26 at Harvard.
Guide to events & conferences for the coming month

Who would have guessed that February has become one of the busiest months of the year for social media, technology and marketing conferences? Look at the list of conferences below, which run the gamut from Women 2.0 Pitch to Vator Splash to Lift, Strata, TED, SMX West, Wisdom 2.0, the first SOBCon Europe and the year's first Social Media Strategies Summit. And don't forget Social Media Week, the multi-city global conference running Feb. 13-17.
For the full year, see our full Calendar of 2012 social media, tech and marketing conferences. And Socialbrite has our calendar of nonprofit and social change events for February.
Hope to see you at some of these! If you know of other must-attend events, please share by posting the information in the comments at the bottom.
Conference
Date
Place
February
Business Video Expo
Feb. 1-3
Miami
Video is emerging as a new type of corporate data that – when deployed in the right way – can make online meetings and corporate publishing more vital, vibrant and engaging than ever before. Business Video Expo will help you understand how to use evolving software and hardware solutions to transform your organization's approach to corporate communications – from the executive conference room to the employee desktop.
Innovative e-Marketing
Feb. 1-2
Barcelona, Spain
Reinforce your online presence and boost your brand and marketing activities through social media communities and effective email campaigns to reach your target audience, guarantee customer satisfaction and maximum ROI for an increased bottom line. Leading experts will address many of the issues facing the industry as well as look to the future to discuss the most important trends and developments.
SF MusicTech Summit X
Feb. 13
San Francisco
The summit brings together visionaries in the music/technology space, along with the best and brightest developers, entrepreneurs, investors, service providers, journalists, musicians and organizations who work with them at the convergence of culture and commerce.
Women 2.0 PITCH Conference
Feb. 14
Mountain View, Calif.
Learn from the leaders of successful high-growth startups and tech companies as they share best practices, growth strategies and disruptive product development stories.
RootsTech
Feb. 2-4
Salt Lake City, Utah
RootsTech is a leading-edge conference designed to bring technologists together with genealogists so they can learn from each other and find solutions to the challenges they face in family history research. Genealogists and family historians will discover emerging technologies to improve their family history research experience.
Vator Splash
Feb. 2
San Francisco
Splash is a single-track evening event and startup competition that gathers leading entrepreneurs, innovators, venture capitalists and angel investors across technology to inspire and energize the audience about entrepreneurship and innovation. Splash brings together high-caliber speakers who talk about how to build and scale great successful companies, how their industries are changing and the opportunities those changes are creating.
SoCon 12
Feb. 3-4
Atlanta
It's hard to ignore the enormous impact social media has had on the world. SoCon12 will explore these changes. Get connected with hundreds of professionals with diverse backgrounds as they attend the Southeast's premier social media networking event, now in its sixth year!
Social Fresh East
Feb. 6-7
Tampa, Fla.
Social Fresh East 2012 will be the first of a new focus for Social Fresh conferences. Join this conference for two days of advanced social media training from companies like Ford, RadioShack, Nordstrom and more.
Online Marketing Summit
Feb. 6-10
San Diego
Join more than 1,500 of your marketing peers as they share ideas, hear from expert practitioners and learn best practices in the areas of social media, demand generation, search, email, analytics, mobile, integrated marketing and more.
An Event Apart
Feb. 6-8
Atlanta
An Event Apart is an intensely educational two-day learning session for passionate practitioners of standards-based Web design. If you care about code as well as content, usability as well as design, An Event Apart is the conference you've been waiting for. Also coming to Seattle on April 2-4, Boston on June 18-20, Austin on July 9-11, Washington, DC, on Aug. 6-8, Chicago on Aug. 27-29 and San Francisco on Nov. 12-14.
SOBCon Europe
Feb. 7
Amsterdam
SOBCon is coming to Europe. SOBCon is the think tank of the social web where some of the best minds in the Internet space gather to present models, discuss insights, and determine best practices. SOBCon Europe is the European version focusing on business models for social responsibility and profit.
Enterprise 2.0 Summit
Feb. 7-8
London
The summit is an event organized by Kongress Media yearly since 2008. It is set up as a highly interactive gathering of Enterprise 2.0 and Social Business experts and practioneers in Europe. Its uniqueness is its intensive exchange of experiences and the practical insights and implications presented.
Social Media Strategies Summit
Feb. 7-9
Las Vegas
Social Media Strategies Summit has been designed to apply to a variety of industries. Six tracks are designed to focus on a particular industry. While tracks are organized by industry, attendees are encourage to move freely between tracks based on their individual learning objectives. Other SMSS events include SMSS Chicago , April 18-19; SMSS Miami , June 12-14, and SMSS London , Nov. 6-8.
Murmuration
Feb. 8
Franklin, Tenn.
Join Gigya, Radian6, ExactTarget, Moontoast and ISM at the Historic Franklin Theatre to share insights, technologies and strategies that are changing the social marketing landscape. Learn how these leading technologies are making social monitoring, commerce and campaign integration a manageable and profitable reality.
SES Conference & Expo
Feb. 9
San Diego
SES Conference & Expo is the leading global event series that educates delegates in search and social marketing, putting a special focus on tactics and best practices. SES Events provides instruction from the industry's top experts, including representatives from the search engines themselves. Other SES events include: SES London , Feb. 20-24, and SES New York , March 19-23.
Media That Matters
Feb. 10-11
Washington, DC
This year's theme, "Change for Good," features conversations about how independent social change filmmakers can execute integrated campaigns that are strategic, action-oriented and have enduring impact.
ACM Conference on Computer Supported Cooperative Work
Feb. 11-15
Seattle
CSCW presents research in the design and use of technologies that affect groups, organizations and communities. CSCW encompasses both the technical and social challenges encountered when supporting collaboration. The development and application of new technologies continues to enable new ways of working together and coordinating activities.
O'Reilly Tools of Change
Feb. 13-15
New York
O'Reilly's TOC Conference is where the publishing and tech industries converge, as practitioners and executives from both camps share what they've learned from their successes and failures, explore ideas and join together to navigate publishing's ongoing transformation. TOC 2012 delivers a deft mix of the practical and the visionary to give attendees the tools and guidance they need to succeed — and the inspiration to lead change.
Cloud Connect
Feb. 13-16
Santa Clara, Calif.
Learn about the latest cloud technologies and platforms from thought leaders in Cloud Connect's comprehensive conference and see leading companies showcasing the latest cloud platforms, technologies and services.
Social Media For Government Communications
Feb. 13-16
Washington, DC
Hear the latest practical advice on using new media and traditional communication tools to engage your community, along with helpful tools, tips and techniques to get started.
Social Media Week
Feb. 13-17
Various
Social Media Week is a multi-city global conference connecting people, content and conversations around emerging trends in social and mobile media. Events take place in New York, Paris, Toronto, Washington, DC, San Francisco, Singapore, Tokyo, Miami, London, Hong Kong and elsewhere through a series of creative events that connect brands, marketers, media and public venues.
Pubcon Paradise
Feb. 14-15
Honolulu, Hawaii
Pubcon Paradise 2012 will offer a multiple-day look at the future of technology presented by many of the world's top speakers. This event will be an ambitious gathering of search and social media innovators and leading technology and online marketing visionaries charged with offering attendees valuable new ideas and solutions for their businesses.
The Startup Conference
Feb. 16
Seattle
The Startup Conference is a one-day conference for everyone considering launching a startup. It covers everything from raising angel money, finding co-founders, getting press from TechCrunch, how to launch and more. Join the startup competition and be selected to pitch on-stage in front of a panel of VCs.
OnMedia NYC
Feb. 21-22
New York
OnMedia is where cutting edge of Madison Avenue meets the best of Global Silicon Valley. This two-day executive event features New York's power players and top digital media CEOs, who engage in high-level debates on how the Internet is disrupting the world of media, marketing, advertising and branding. OnMedia also showcases the emerging entrepreneurial CEOs who are revolutionizing the way media is being created, distributed, consumed and analyzed.
Cloud Computing for DoD & Government
Feb. 21-23
Washington, DC
IDGA's third annual event is your opportunity to claim your place in the virtual world of DoD and federal government data storage. This time-critical event will emphasize how cloud computing can cost-effectively revolutionize the way your enterprise works.
Gravity Summit
Feb. 22
Washington, DC
The summit will bring together a lineup of sports and entertainment leaders and insiders to address social media marketing trends, innovations, tools and strategies now and in the future.
Intelligent Content
Feb. 22-24
Palm Springs, Calif.
Intelligent Content 2012 is an intimate, three-day intensive learning experience designed to help attendees understand what is required to create intelligent content: content designed to be structurally rich and semantically categorized, automatically discoverable, reusable, reconfigurable and adaptable to any future functionality.
Lift
Feb. 22-24
Geneva, Switzerland
Lift conferences are a series of events built around a community of pioneers who get together in Europe and Asia to explore the social implications of new technologies. Each event is a chance to turn innovation into opportunities by anticipating the major shifts ahead and to meet the people who drive them.
BlissDom
Feb. 23-25
Nashville, Tenn.
This conference is for women who find and express their bliss by publishing online. Speakers and panels will feature the best blogging, public relations and social media pros who'll be on hand to mentor new and old friends.
Computer-Assisted Reporting Conference
Feb. 23-26
St. Louis
In this annual conference devoted to computer-assisted reporting, come and learn about tools you need to dig deeper into stories and give readers and viewers the information they want. The CAR conference offers something for everyone, from beginners to those on the cutting edge of digital reporting. Sessions include the basics on using spreadsheets, databases and online mapping as well as the latest technological advances.
Wisdom 2.0
Feb. 23-26
Redwood City, Calif.
Join the founders of Facebook, PayPal, Zynga and other technology leaders along with wisdom teachers in this conference where the focus is on exploring how one can live mindfully and wisely and engage the great technologies of this age in ways that benefit us, our society and our world.
SuperConf
Feb. 24-25
Miami
SuperConf 2012 is where Web development & entrepreneurship converges. On Day 1, Startup Blast Off is where eight new companies launch their products to the public. On Day 2, the conference dives deeply into understanding user interface design, bleeding edge technology, marketing, business and building lasting relationships.
SearchFest
Feb. 24
Portland, Ore.
Industry experts and thought leaders from around the country will deliver in-depth presentations on topics including advanced search engine optimization, social media marketing, universal search, analytics, paid search marketing and much more.
Social Enterprise Conference
Feb. 25-26
Boston
This year's conference will feature two days of rich content at the Harvard Business School and Harvard Kennedy School. The Saturday schedule is designed for a smaller and more practitioner-focused audience, while the Sunday schedule will feature about 100 speakers with a more general focus with a Pitch for Change Competition and Career Fair.
Mobile World Congress
Feb 27-Mar 1
Barcelona, Spain
Mobile is enhancing and expanding education and thus, transforming the world. Mobile World Congress 2012 will celebrate the current state of mobile and offer a glimpse into where mobile has the potential to go next.
TED
Feb 27-Mar 2
Long Beach, Calif.
From dazzling technology and leading-edge science to the richest veins of human creativity and interconnection, TED 2012 will display remarkable speakers, new uses of music, extravagant use of underused senses, intricate choreography between speaker and screen, new ways of involving the audience, breakthroughs in animation, intense, campfire-style storytelling and some "spectacular surprises."
TEDActive
Feb 27-Mar 2
Palm Springs, Calif.
TEDActive is an opportunity to let your mind travel the world of ideas while watching the live-hosted TED 2012 program on screen in a comfortable, customizable space. When the talks are over, your conversations with other passionate people begin — a chance to engage in inspiring discussions and projects.
Inbound Marketing Summit
Feb. 28-29
New York
The must-attend conference for digital, social and mobile marketing will have a mix of inspirational speakers like Chris Brogan, Laura Fitton, Tim Hayden and Barry Libert, cutting edge content and real-world case studies. IMS is where innovative marketing and media professionals meet face to face, participate in sessions and network with their peers. IMS will also take place June 12-13 in San Francisco and Oct. 24-24 in Boston.
Search Marketing Expo – SMX West
Feb 28-Mar 1
San Jose, Calif.
Attend SMX West for the exceptional content, invaluable connections and essential conveniences. Dramatically increase the number of people who come to your site with ROI-enhancing paid search advertising and search engine optimization techniques and best practices.
Strata Conference
Feb 28-Mar 1
Santa Clara, Calif.
Strata Conference is the leading event for the people and technology driving the data revolution. The home of data science, Strata brings together practitioners, researchers, IT leaders and entrepreneurs to discuss big data, Hadoop, analytics, visualization and data markets.
Digiday Agency
Feb. 29
Los Angeles
This conference from Digiday Agency  will address the biggest issues and challenges digital agencies and marketers face today across the buying spectrum. This year's theme is "Retooling for the Future."
JD Lasica, founder of Socialmedia.biz, is now co-founder of the cruise discovery engine Cruiseable. See his About page, contact JD or follow him on Twitter or Google Plus.