A Gowalla heat map of Austin, Texas, by Bramus on Flickr
Evaluating the business potential of location-based social applications—is the tail wagging the dog?

If you read any mainstream media or social media sites, you might have started to get the impression that a Foursquare, Gowalla or Loopt application is your only hope to make this quarter's numbers because check-ins are on everyone's lips, er, fingertips these days. However, for chief marketing officers of large brands, what's the real business potential of these apps in 2010? What can they do for your business, and what and where are their limitations?
Below I'll share some due diligence I've conducted for one of my clients and give you some general guidance for using these apps this year. I've also included links to the best information sources. First, let's start with an introduction of geosocial and how it fits into the ecosystem you already know.
A brief introduction to geosocial applications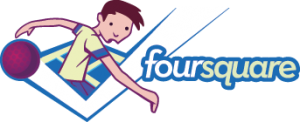 Geosocial — or geolocation or location-based services or applications — represents an emerging space within the Web 2.0 ecosystem, so I'll spend a minute here positioning them because their development is moving at warp speed. Geo refers to exchanging information related to your current temporal and physical location via a mobile device. Social applies the now-established bundle of practices called "social networking" to your physical location — interacting with friends or friends of friends.
You might think of geosocial as "situational social networking based on where you are" (and what you're doing). Many geosocial applications use GPS technology to automatically report the physical locations of their users, subject to their privacy settings. For some quick visuals, see Geosocial Applications and the Enterprise (PDF).
Small niches of people have been active in geosocial, using text messaging, for many years. Progenitor Dodgeball was founded in 2000 and enabled users to SMS each other to report their location, notify them about other people nearby to enable "meeting in real life." Geosocial applications try to increase opportunities for socializing with existing friends or people users don't know but have certain things in common, based on each user's privacy and sharing preferences.
It's worth noting that geosocial is related to but distinct from geotargeting, which usually denotes serving precise marketing messages to people based on their locations. Citysearch has been doing this since Web 1.0, and current players like Yelp and Facebook are converging into the geosocial space. Google tried to morph its Dodgeball acquisition into Google Latitude, but it hasn't really worked, and I'll speculate that they are channeling much of their geosocial energy into Google Buzz.
Some key players
Key players in the space include the following: