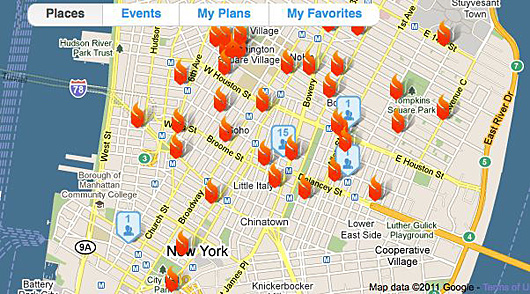 Social activity in Manhattan from The Hotlist, a mobile startup.
Advice from three startups on the digital creation process

In any project you decide to embrace, there are key ingredients that must fall into place to build a solid foundation for success. We caught up with a number of new mobile and Web app startups and a user experience design expert from the agency side to pick their brains on the key ingredients needed to make that perfect risotto. That is, to build a startup from the ground up.
After years of working with brands and startups, it amazes me how great ideas get muddled when it reaches the execution phase. When I was part of a product management team, it was a challenge to convince executive management how design needs to be an integral part of the process. $3 million down the drain later, they'll circle back and say, "Jessica can you show us those architectural sketches again?"
Here is a summary of the advice from all three startups with perspective from my personal experience in the digital creation process.
Timing is everything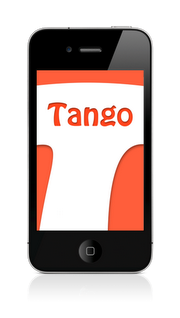 When the visual search startup Search Me launched in 2005, the tech world was excited! $43.6 million later and only 1.8 million users to show for it, they had to shut down. The world was not ready for visual search at that time.
However, timing has worked very well for Tango.me, a free mobile video calling service with 6 million users available in 135 countries and on 45 different mobile devices. Uri Raz, founder and CEO, adds that "the improvement of smart phones and video was excellent timing for Tango.me. Why limit video calls on the PC when improvement in mobile technology makes it more accessible and convenient."
In the million and one ideas that you have in your "ideas" folder, look for one that the market is ripe and ready for. Observe the changes in the space that you would like to service, do your research, find the gap and improvements you can implement, then make your bet.
Find your product's focus
Most startups don't find the sweet spot of their product the first time they launch. It takes a number of prototypes, many days of testing, collaboration and iteration to get to the phase where it is finally ready for public consumption. Uri adds: "When your product is able to provide something useful to a massive group of consumers, you won't need to convince them about its usefulness — they will make sure you succeed by supporting your product."
A powerful example of this experience is when Tango.me first launched in Korea. "Korea is one of our first adopters," Uri says. "When we first launched, there was a flaw in our platform. Our system was not working with the structure of Korea's phone number system. A user discovered a way around this and posted it in his blog. The next day Tango had 120,000 downloads. We've fixed that issue, yet this memorable act of love from our users is a testament to how our product is connecting lives." Continue reading →