Want to be popular on Twitter? Here's how.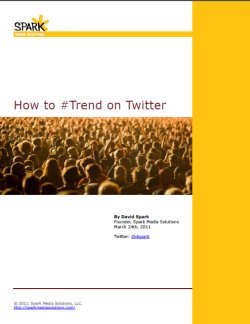 Is there a formula to be a trending topic on Twitter? After some successful experiences with some clients plus some very public data on trending topics, I've put together a ten-step guide on how to create a trending topic on Twitter. I think you'll be surprised by the techniques. Most of the advice is focused around energizing people during events.
Above is my appearance today on 7 Live, an interactive live Bay Area show that hits a lot of pop culture and technology issues. I mention three of the techniques.
To get the guide with all ten techniques, subscribe to my newsletter Spark Notes* (see the latest issue) and you'll receive your copy of "How to #Trend on Twitter" for free. Simply enter your email address below, then reply to the confirmation email, and I'll send you this valuable article for free.
The article is free and you can unsubscribe from the newsletter at any time.
Enjoy, and please let me know if you have any alternative suggestions.David Spark, a partner in insidesocialmedia.com, helps businesses grow by developing thought leadership through storytelling and covering live events. Contact David by email, follow him on Twitter and Google Plus or leave a comment below.