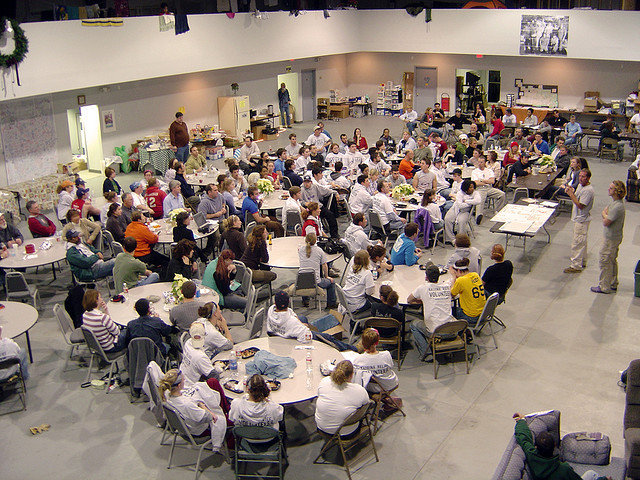 The power of the crowd (Photo by laffy4k, Creative Commons)
With Sulia, Flipboard & Twitter, it's never been easier to keep abreast of topics that matter to you
Guest post by Brian Blondy
Crowdsourcing and aggregation are two key functions for the modern distribution of real-time content within the online news industry. If used properly, each is a powerful method for processing and delivering your interests in a clean and concise manner on information networks like Twitter, Flipboard and Sulia. To maximize the potential for how you follow the issues you enjoy hearing about, both must be embraced and utilized to supercharge your knowledge of online news.
You should know that visiting particular websites to keep up to speed about a specific topic is almost essentially a waste of time. Web surfing is inefficient, time consuming and runs the risk that you may not actually find what you were looking for. These days, one article or one opinion is not enough, especially when you're making a concerted effort to find information on the topics you care about most. Instead, you need to tap into crowdsourcing to target your precise interests online.
Sulia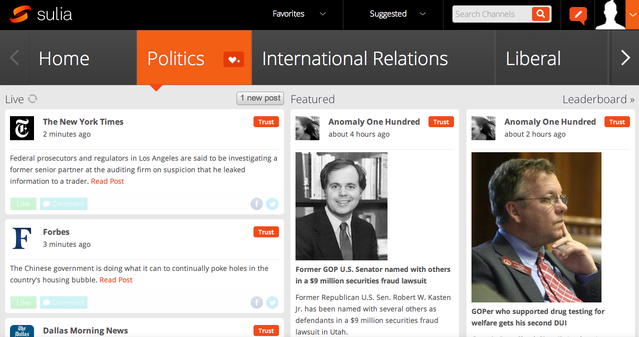 1Sulia is a crowdsourced and aggregated social network platform that organizes tweets and tweeters into real-time topic streams. As a user, you can choose the precise topics that you want to listen to, and then the platform feeds content from publishers in your area of interest onto your own personally curated Sulia news feed. From there, you have the ability to interact and discuss the content with other users who are also following the same interest. Sulia's mission is a brilliant spin on both Twitter and Flipboard, while not competing with either because its content comes directly from them both.
Sulia's niche has enormous potential for giving you the option for focused content and allowing you to engage in a global discussion around the topic. While it will not replace Twitter and Flipboard, Sulia brilliantly embodies the evolution of the market by combining a real-time content stream with nichified discussions longer than 140 characters.
Flipboard
2Start using Flipboard on your mobile devices. Flipboard is an absolute game-changer for consuming content because it consolidates and presents content in an efficient and spartan manner. Within the app, you can begin following excellent curated channels such as Tech, Entrepreneurship, Film, and Travel in order to gain a fluid look into the specialized fields of your choice. Each of these channels impressively displays content from scores of reputable news outlets and bloggers. Simply put, Flipboard is the closest embodiment to what the modern newspaper should look like, and it has revolutionized how the public consumes content on tablets today.
Twitter
3If you're looking to expand the scope of your specific interests, it's essential that you use Twitter to digest news and content outlets on the topic itself so that you hear from a variety of sources. You also should also be listening to the content creators and influencers who are evolving and analyzing the topic online. By consuming online news in bulk, you'll give yourself the liberty to see the news from a much wider angle, giving you an expansive view of what is actually going on. Crowdsourcing your news will give you a good opportunity to become better informed on the topics you enjoy.
Use lists to instantly transform your Twitter account into a powerful tool for content consumption within the areas that you're most interested in hearing about
To begin, join Twitter and become an active listener on the social network. In particular, Twitter houses a massive spectrum of voices that will inform you and provide short, concise perspectives on the exact topics that you enjoy hearing about. Be aware that having to seek out the right voices on Twitter is often a tedious and long process. The real question is; who should you be listening to? To answer this question, you should leverage the knowledge of the crowd and outsource your search to others who have already identified and categorized influencers on the platform that are the most relevant to follow.
Start by following the main influencers (in tech, see Robert Scoble) in the field of your interest and begin looking at aggregated lists that they have been added to on their profile.  Through the crowdsourced knowledge of others, you can subscribe to topic specific aggregated lists that will give you the most value. Chances are that if they are influential enough in their specific field, they will have already been listed and included on an aggregated list. By subscribing to lists, you'll instantly transform your Twitter account into a powerful tool for content consumption within the areas that you're most interested in hearing about.
Using the public to crowdsource relevant, timely content
With information dynamos like Twitter, Flipboard and the emerging Sulia, never before have you been more capable of being empowered for expanding your daily knowledge of the things you enjoy hearing about most.  Since both news outlets and individuals are constantly pushing out content to the world, all you have to do is tap into the right pipelines to reap the benefits of the exact information stream you desire. These days it's a shame to just be an intermittent fan of your interests. With platforms like Twitter, Flipboard and Sulia being fully customizable and always updated, there's really no reason why you shouldn't be informed. (Could this be one reason Google killed off its RSS tool Google Reader?)
In a bigger sense, it would be wrong to say that all three are better or have replaced newspapers. After all, Twitter, Flipboard an Sulia do not employ journalists. While print journalism has changed dramatically, content creators are redefining themselves in the digital age by making themselves much more dynamic and visible through the public's crowdsourcing of their content and their aggregated inclusion within the discussions of the niche itself. Today, it never been easier to follow, and discover anew, the topics, issues and news that matter to you most.
Brian Blondy lives in Tel Aviv, Israel, and has written for The Jerusalem Post's arts and entertainment section since 2009. You can follow him on Twitter at @bblondy325. Republished from Blonde 2.0.
Related
• How Flipboard is changing everything (Socialmedia.biz)
• Take charge of the curation wave with these slick tools (Socialmedia.biz)
• Top tools to help you curate business content (Socialmedia.biz)