Focus on your goals, then expand your networking
Target audience: Small businesses, entrepreneurs, marketing professionals, SEO specialists, college students, job seekers, those considering a career change.

"In the past," Porter Gale says, "I think people thought of networking as a transaction or a game. It was all about collecting numbers and handing out business cards."
Porter's new book, "Your Network Is Your Net Worth," suggests a different approach, beginning with "the we instead of just the me," as she says in our 8-minute interview above. Her approach is about helping others, offering value, creating partnerships, finding influencers and creating content — whether that's a blog post, a video interview or a brainstorming session to solve a problem.
Watch or embed our video interview on YouTube
Watch, download or embed the video on Vimeo

As vice president of marketing at Virgin America, Porter began to appreciate the value of a rich social network, and she translated those ideas of having a defined purpose and a mission to individuals. "Once you determine your passions, then figure out where you can accelerate your networking," she says.
The book — my short review is below — has a few different audiences, particularly new college graduates who are trying to figure out their career path as well as those re-examining their career path or needing more focus.
Note: Porter is hosting an online course covering many of these topics on CreativeLIVE on July 30-31.
Review of 'Your Network Is Your Net Worth'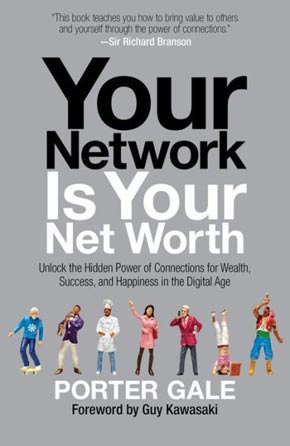 While other books in recent years have jumped on the trendy anti-social media bandwagon, Porter Gale's "Your Network Is Your Net Worth" goes in a different direction. The book makes an optimistic, hard-headed, clear-eyed case for the simple reality that social networking is not just about people and our connections to them – it's also, at bottom, about how we shape our own identities and, ultimately, our destinies.
In the book's 13 chapters, the author mixes personal anecdotes and frank revelations with a series of exercises that propel readers toward more effective business networking for the digital age. Her tone is conversational, helpful, honest and, above all, relentlessly positive.
Some readers will no doubt squirm at admonitions such as, "In our global, networked economy, you can't allow your social capital to lie dormant." Or: "Put greater energy into giving than receiving. What you will find is that the giving will come back to you tenfold."
But that misses the bigger picture. Gale takes us up a level, entreating us to map our behaviors against the outcomes we're seeking, all the while ushering us toward "long-term values-based relationships" and approaches that "apply the principles of happiness and positive living."
You may flinch at taking the Funnel Test, a simple device that helps you to review your passions and define a 20-word purpose to anchor your networking. But go ahead, do it. Here in Silicon Valley, we go through the paces of crafting a 20-word elevator pitch to crystallize a startup's core value proposition. Why shouldn't that technique apply to our own lives' work as well?
Gale, who headed up marketing at Virgin America, has the pedigree and the connections to trot out dozens of real-world examples that drive forward the narration: people like Shira Lazar, who's blazing a path as a self-made Internet news personality, or Mark Horvath, who took his passion for helping the homeless and channeled it into a fantastic site (and cause), InvisiblePeople.tv.
"Your Network" is a revelatory pastiche of marketing smarts and up-and-at-'em business pep talk mixed with a generous amount of personal growth and self-help advice. Read it, enhance your network and keep on the path to personal and business growth.
Related
• When does ad retargeting make sense for your business? (insidesocialmedia.com)
• Are you using social media to serve your needs? (insidesocialmedia.com)
• 55 expert tips to produce better & faster content (insidesocialmedia.com)
JD Lasica, founder of Inside Social Media, is also a fiction author and the co-founder of the cruise discovery engine Cruiseable. See his About page, contact JD or follow him on Twitter.