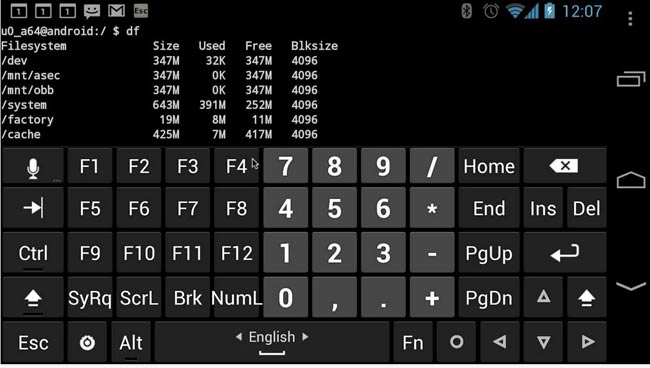 Hacker's Keyboard for Google Play.
When does a tablet beat a PC? When it's more convenient
Target audience: Web developers, Web publishers, content creators, marketing professionals, SEO specialists, PR pros, brand managers, businesses, nonprofits, educators.
Guest post by Teddy Hunt

When you have a website, sometimes you'll get the urge to add or change something in the middle of the night. Rather than waking up and walking across your place to the PC, you choose to roll over and grab your tablet.
The only problem, though, is that browsers for tablets are pretty clunky for developers, publishers and content creators, and there's no real easy way to do what you need to do. Here are a few Web development apps that can give you a hand.
View Web Source
1Sometimes you may need to make a minor change to your code. For these instances, a tablet isn't ideal at all — unless you have the View Web Source app at your fingertips. As the name suggests, this app allows you to view the web source code on your webpage — through your mobile device. The app makes the text come across extremely clear and very readable. You'll be able to copy the source code to the clipboard and paste it elsewhere, whether you want to store it on the device itself or email it to yourself with notes on what to change later. See the Web Source Viewer app for Apple's iOS or the View Web Source app for Google Play.
WordPress
2WordPress is frequently used as the engine that powers millions of websites and blogs, thanks to its flexibility. The WordPress app (see the iOS and Android versions) is open source, allowing you to do basic things like make posts, edit your work, view stats, and more. It'll also deliver notifications, so if someone comments while you're working, it'll pop up and show you. This is essential if you have a WordPress hosted site, especially one focused on news, as you can update it with the latest information regardless of where you happen to be.
Webmaster's HTML Editor Lite
3You'll want a flexible HTML editor, and Webmaster's HTML Editor Lite (see the iOS and Android versions) fits the bill. With this app, you'll not only be able to edit HTML, but you can edit PHP, JavaScript, and CSS. It supports undo and redo, so if your finger slips and accidentally breaks your site, you can go back and fix it. It also has support built-in for HTML, JavaScript, and CSS. This app looks fantastic and runs smoothly, but it runs pretty much perfectly on, say, the best Lenovo tablet. The app also supports the regular hotkeys, just in case you decide to use an external keyboard connected via Bluetooth.
Hacker's Keyboard
4The Android keyboard isn't terrible, but for coding, it's not ideal. Hacker's Keyboard changes that for you. With Hacker's Keyboard (see the Google Play and iPhone versions), you'll have a standard keyboard layout on the screen, complete with five rows of keys. You'll also have multiple layouts, along with support for different languages. If you're going to do any sort of typing on your device, this is a must-have.
AndFTP
5This is extremely handy if you need to access the files on your site but don't have a PC nearby. It's free, and not only can you access your files, you can upload and update files as well. It also has several guides, so if you're confused about what to do, AndFTP (Google Play only) will help you out.
Google Analytics
6It's important to see the statistics of your site so you can know whether people are actually reading or not. Google Analytics is completely free, and it'll show you the visits and conversion rates. It'll also show you what country the majority of your traffic comes from as well as graph the data for you. (See How to Calculate Traffic from Tablets and iPads with Google Analytics on Oracle's Compendium.)
DropBox
7If you don't want to deal with the hassle of transferring files via FTP to your site, Dropbox is a popular secondary choice. You'll be able to upload whatever files you need then access them at a later time. You can also upload files and send them to a third party, so if you need to send a file to someone and it's too large to send from phone to phone, you can upload it here and then give them a link so they can download it. (Download Dropbox for iOS or Google Play.)
Trying to develop from a mobile platform doesn't have to be a nightmare. Give some of these apps a try and your life could be a lot easier. Do you have a favorite Web development app?
Teddy Hunt is a freelance content writer with a focus on technology.