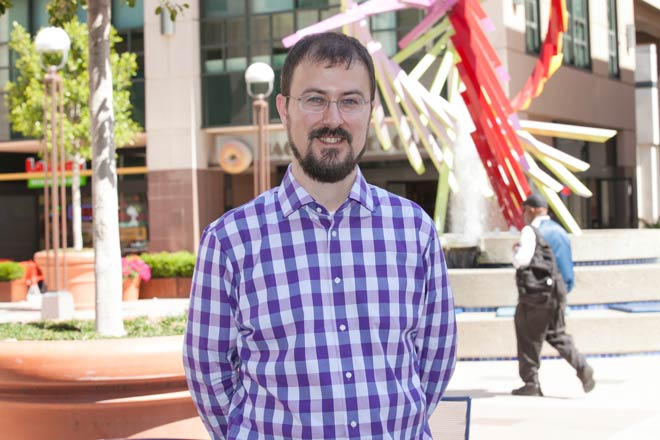 Journalist-turned-entrepreneur Marshall Kirkpatrick after his talk at the Social Media Breakfast Club in Oakland (Photo by JD Lasica).
Follow the data and add value: Little Bird CEO's advice to journalists & entrepreneurs
Target audience: Entrepreneurs, journalists, Web publishers, businesses, brands, digital marketers, advertising agencies, SEO specialists, educators.

Remember the admonition of the Watergate generation? Follow the money.
Well, new times deserve a new adage, and Marshall Kirkpatrick has one for us: Follow the data.
Marshall, a longtime if far-away friend, flew down from Portland this week and gave a talk at our 5-year-old Social Media Breakfast Club in Oakland. (We're hosting BlogHer co-founder Jory des Jardins on May 22.) And, boy, was it riveting, if you care about ways that enterprising journalists can parse data to gain a competitive advantage and entrepreneurs can use a new set of influencer tools to identify potential champions.
How Marshall got the scoop with an early alert system
"Hack and scrape and think about what's a systematic strategy of looking at the structure of social media to find opportunities to add value."
— Marshall Kirkpatrick
I wrote about Marshall's new enterprise, Little Bird, a year ago this week in my post Little Bird: A game changer for tracking influencers. Since then, it's become an even more powerful and useful tool — one that every business ought to take a serious look at.
Marshall opened his talk by reflecting on the instincts that propelled him to the forefront of the tech journalism scene for years as a reporter for TechCrunch and then co-editor of Read Write Web.
He would use the tools of the time — Zaptext, Delicious, Amazon Mechanical Turk, Needlebase, PostRank, BackType, If This Then That and Twitter scraping — to crunch the data and learn the identities of the movers and shakers who mattered most in a particular vertical -– and then he'd create an SMS alert to make sure he was alerted first when they posted a comment or shared a nugget that turned out to be the kernel of a news story. (Damn that Kirkpatrick! How did he beat us again? Data.)
What influencers often have in common: curation
If you look at the top influencers on Twitter or other social networks, they often offer curation in one form or another. "One of the biggest ways to add value is to do some human filtering, to find the needle in the haystack so other people don't have to," he said. "Be the first place where people hear about something. Or be funny. If you can do one or the other, people will keep coming back to you."
Marshall advised the attendees — social marketers, business people, consultants, entrepreneurs — to use social networks strategically. "I'm sure there are still ways to hack, and scrape, and think about about what's a systematic strategy of looking at the structure of social media to find opportunities to add value, rather than just jumping in and looking at freshest posts in a news feed."
And he reminded us of the animating principles separate influencers from ordinary mortals. "There's something about the structure of the social web that's made to connect. If you say something that's interesting and adds value, people will look around and, if you have your house in order and you have a good Web presence, then the influential person you just engaged with will start thinking about following you or paying attention, if you do it in a dignified way that adds value.
"And very often it'll turn out that they came to that comment thread for the reference to them, but they stayed for how awesome you are."
Related
• Little Bird: A game changer for tracking influencers
• Twtrland: Find the top influencers in your sector
JD Lasica, founder of Inside Social Media, is also a fiction author and the co-founder of the cruise discovery engine Cruiseable. See his About page, contact JD or follow him on Twitter.