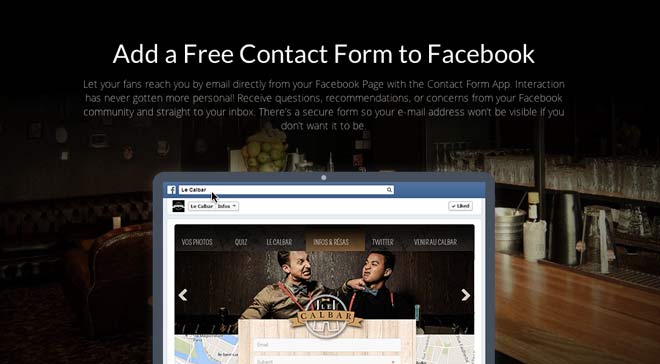 Contact forms are among the most powerful – and most underutilized – apps for Facebook. From the opening page of PageYourself.com.
Target audience: Marketing professionals, SEO specialists, PR pros, brand managers, businesses, nonprofits, educators, Web publishers, journalists.
Post by Andrew Lisa
In the never-ending hunt to make my Facebook page stronger than the day before, I've found that one of the most powerful add-ons is also one of the most underutilized: contact forms. Facebook is still far and away the most widely used social media marketing site, and a contact form is a robust addition that makes social marketing on Facebook even friendlier to my friends list.
Contact forms for conversions and sales
As discussed in "Make Your Facebook Page Work Harder with a Contact Form," leads can be converted into actual, real-world sales and repeat business with a well-placed, well-utilized contact form. Getting a contact form on my page was easy, but making it work for my business took a little work.
My Facebook contact form plays a different role than contact forms on my webpage, and even on my other social marketing sites. The form is located at the top near my banner. I can receive the sender's information in my email – or anywhere I choose to have it routed.
Ask the right questions
One of the best results I've received is by using the contact form to inquire about my customers' other social media pages and sites. This allows me to keep in better contact with them and to cross promote – the essence of social media.
Like any interactive widget, it is imperative to monitor your contact form with analytics. Use variant A/B testing to monitor what part of your social marketing strategy is working and what isn't. Are leads being generated? Is your page generating responses? Are the "friends only" deals you're offering leading to actual, real-world sales?
Apps worth considering: PageYourself, ContactUs & 123ContactForm


Used correctly, contact forms can convert leads into real-world sales.
There are countless (literally, I tried counting them – I couldn't) apps that help you build a great, functional, customizable contact form for social marketing. Here are a few of my favorites:
PageYourself: PageYourself is free, and it comes with a lot of a extras, such as drag-and-drop, detailed stats, CSV and mobile compatibility.
ContactUs: ContactUs installs in three clicks, comes with instant alerts and claims that it will be ready to launch in 10 seconds.
123ContactForm: 123ContactForm contains no user redirection, it requires no coding and is fully brandable.
I've improved my Facebook page tremendously with a contact form – and you can, too. Just make sure to make it friendly – it's aimed at your "friends," after all. Use casual language, inquire about their other social media sites and make sure to constantly monitor it through back-end analytics.
Andrew Lisa
is a freelance writer who covers social media and the blogosphere. Follow him on
Twitter
.