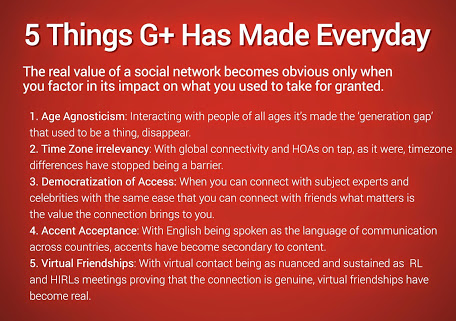 A Google+ affirmation graphic.
Tips on what works and doesn't work on G+
This is the second of a three-part series on Google Plus. Also see:
• Hey Google! Here's why Google+ is still a ghost town
• Why Google Plus is the antisocial network
Target audience: Marketing professionals, SEO specialists, PR pros, brand managers, businesses, nonprofits, educators, Web publishers, journalists.

It occurred to me, after spending a week deep-diving into Google+, that Plus is not a social network — or even a social layer. It's a global reboot of the message board.
If you want to succeed, you need to forget about your friends and your family. Leave them behind. There are cooler, smarter, funnier people on Google+ than we have in our own lives now.
Hello to birds of a feather
It's not where you connect with people you know, it's where you find birds of a feather. It's where you can find better. It's a bona fide online community along the lines of The WELL, Slashdot, and Reddit more than it's like LinkedIn, Pinterest, or Facebook.
When I join a forum, I don't expect all my friends to be there already. I don't expect brands to be there. I go there because that's where the experts are. When I go to the ADV Rider,  Motobrick, or BMW MOA forums, I don't expect to see my cousin Joe or my high school sweetheart.
But, I do expect to meet folks who know much more about motorcycles than I do. Folks who've already sorted out oil changes, what to pack on an around-the-world expedition on a bike — all of that. I expect to enter a different world entirely. That's apparently how Google+ is set up. Why bring the mundane people of your life with you?  Start anew with the smartest, most creative, most interesting folks that the entire Google Globe can offer.
How to be a Google+ success

Step one: Join Google+ (you probably already have one or more account on Google+ already that you may have checked out once, three years ago — it's still there). Just go to your Gmail account — I know you already have one of these — and click either on the little white Rubik's Cube or on the little bell (with the red circle with numbers over it).
Step two: Forgo any and all other social media platforms. Leave your other online homes and commit to G+ — even though none of your clients want to use it.
Step three: Start following some of the people whom Google recommends you to follow. Add them to your circles. But be sure you're smart with your circles. Start slowly. Look, listen, then start +1ing the content you like. Realize that, on Google+, you can actually engage with everyone and anyone you meet. It's not ageist, it's not sexist, it cares nothing about caste, celebrity, success, or education (well, that's not entirely true. Google Plus is a meritocracy, as are all online communities. Forget about "don't be evil," — don't be stupid!)
Step four: Keep on adding people to your circles who you find interesting or compelling. Spend more time engaging in comments and +1ing for a couple of weeks until you get a feel for the community and people start getting to know you. I call it the "goldfish in the bag" time — where you're in the fish tank but you're still in the water in the clear plastic bag you were sold in in order to acclimate to the water temperature and your surroundings before you really commit to moving in.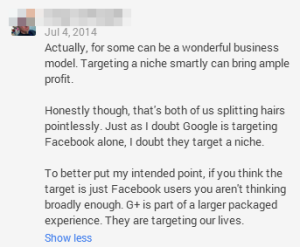 Step five: Start posting your own content. Be sure that you share other people's content as well. It's not about dropping links from your own articles. It's sort of like Reddit or Wikipedia in that respect. If your content isn't good enough for other people to share onto Google+, it probably isn't good enough (that really stung to realize, personally).
Step Ssx: Rinse and repeat, every day.
Good news & bad news
Despite Google's overtures, I missed the fact that none of my friends were there — or, they were there but not participating. Brands generally weren't there, friends weren't there, and even people who are, aren't there very long.
While people generally like what they see on first blush, they eventually leave the empty austerity of Plus to return to the messy excitement of Facebook, Pinterest, Tumblr, Twitter, and Reddit. And, at the end of the day, I just kept engaged with Plus because I was afraid not to: I do Search Engine Optimization, Online Reputation Management, and endlessly promote my own writing and content, so I just assumed that posting onto G+ regularly would in some way curry favor with the Google Gods.
The good news: Google+ is probably one of the smartest, interesting, intelligent, interested, and compelling virtual online communities ever created.  G+ is a worthy inheritor of Real Name communities like The WELL, The Meta Network, EchoNYC, and even USENET. The conversation — both the initial posts as well as the commentary — is longer-form and can thread down into infinity. The people are loyal, devoted — often zealous — and are as likely to be photographers, educators, writers, physicists, philosophers, and artists as they are celebrities or featured guests. The people who live on Google+ are in love and cannot even consider spending their time, energy, and limited free time anywhere else.

The bad news: what I said in my last post is still true: If you're just casually interested in making a virtual online community home on Google Plus, you're still screwed. I was told, again and again, that if I had spent three years in the desolate wilderness of Google+, desperately holding on and sending out my weak olly olly oxen free in the form of posting, sharing, and dropping articles I had written, then I was doing it wrong. That I hadn't wanted it enough. That I was to blame. That if I had really wanted to be a joiner, I would have. That my shitty experience on Plus is all me and had nothing at all to do with the social network — sorry, social layer — at all.
On Google+ I feel a little like Frankenstein's monster
I'm in trouble. There's a posse out to lynch me because of what I've been reporting about Google+: it's a ghost town! It's a spam box! The only reason to be there is to curry favor with Google for organic SEO benefit. I feel terrible, too, because there's apparently very passionate members of this community, too. Folks who are not merely passionate about Google+ but simply devoted. Committed. To the exclusion of all others.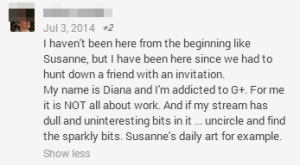 All I know is that I have been a member of Google+ from the very beginning — for very close to the entire three years it's been nothing but a ghost town for me. Simply an elaborate connective tissue stitching together all of Google's more compelling properties like Search, Picasa, Hangouts, and YouTube.
Well, my initial experience with the Google+ mob is that they're committed to blaming the victim: me and all the folks who are unwilling to negotiate the initial desolation of the initial G+ experience we've all experienced as default Google+ members. We're all Google+ members, right, just because we've all got Gmail accounts. Just by the virtue of that common thread, the designers of Google Plus should have "dumbed down" Plus in order to encourage everyone and anyone who has a Google webmail account to also have at least a brilliant kiddie pool experience with G+ as well — even if requires water-wings and a watchful parent nearby.
My friend BL Ochman loves Google+ and believes me wrong about everything. I agree that Google+ is pretty great, theoretically, sure — and the tools are gorgeous and shiny — but even BL sees little worth, especially in her most recent article, Dear Google: You are doing a terrible job of explaining Google+. It sounds like she's worried.
Do you use Google Plus? If so, why?
So let me ask you: do you use Google+? Do you or your company have Google+ Business Pages. Do you have a community on Google+? And, if so, how often do you visit? How much time have you committed? How long did it take you to become a bona fine Plusser?
I found the Google+ affirmation graphic on Google Plus (at top), and it really makes me want to find a home there.
When I read through this list I feel pretty bad about spending the last three years dropping links and Facebook content into Plus as an afterthought. Sort of writing compulsory checks to my church instead of believing in God. Just because, that's what you gotta do.  Maybe I have been mistaken. Probably.
This proves that everyone on Google Plus think they've invented the virtual online community. Not Lisa Kimball or Scott Burns and TMN.com or Howard Rheingold and The WELL. It's sweet, actually. Just like when millennials act like they've discovered the orgasm or something sweet like that.
I'll stop giving Plussers any more grief. It's just evangelical zeal. The passion and obsession of the newlyconverted. It's actually lovely. Hopeful. It just means that persistent and intimate community online is not a vestige of the past but something that'll persist into the future.
On the other hand, one of the nicest things about my online message boards and forums about motorcycles that I frequent is that there are posted FAQs, pinned suggestions, rules of the (forum) road, and also a bunch of old timers, moderators, admins, high-post-counters, and other fanatics who have taken it upon themselves to take me under their wings, facilitate my experience, and encourage me to come back and have a fulfilling time.
My organic experience with Google+ has been more sink or swim. More pass or fail. And, that's the missing piece.
(H/T to Attorney Jason Kalafat for his support in developing this page)Chris Abraham is a partner in Socialmedia.biz. Contact Chris via email, follow him on Twitter and Google Plus or leave a comment below.