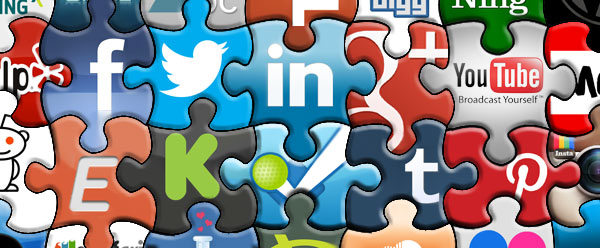 greyweed / Creative Commons BY
Behind the huge shift toward social & online media
Target audience: Businesses, brands, digital marketers, advertising agencies, SEO specialists, entrepreneurs, educators, journalists, Web publishers
Post by Megan Totka
ChamberofCommerce.com
The world of advertising has undergone a seismic shift over the past two decades. The arrival of widespread Internet access, high-speed connections and an explosion in smartphone use has seen spending on online advertising (including social media campaigns) go through the roof.
In a recent report, eMarketer said digital marketing is expected overtake TV advertising in total dollar spending in 2017 for the first time, with recent and future growth fueled mainly by mobile and video sectors.
The picture is less sunny for traditional advertising methods. Market share of radio, billboards, print advertisements and TV has been shrinking for years, and will continue to slip in an increasingly digital world.
The impact of e-commerce
We live in an interconnected, 24-hour world. While in the past "shopping" consisted of visiting a physical store during open hours, consumers of today can easily research and purchase anything they want, whenever they want, from just about anywhere on the planet.
The growth of online shopping, from an ill-trusted, niche pastime 20 years ago to an entirely mainstream activity today, gives buyers more choice than ever before.
The sellers of today are in competition not just with their local rivals, but with companies on the other side of the country, and even the other side of the world. And this battle is not being fought on the street — it's being played out in the digital world.
In that environment, online marketing has a huge advantage over traditional forms. A consumer sees an ad, and a click sends her straight to the vendor's website where a purchase — impulsive or otherwise — can be made in seconds.
Traditional marketing still has its uses — it can still create interest and desire, reach them when they're not plugged in, and influence brand perception.
There's a reason Amazon, eBay, Microsoft and countless others continue to use traditional media to complement their online presence — because it still works. It just doesn't work quite as well, or in the same way, as online methods.
Technology has opened new doors
Online advertising was possible as soon as the general public gained access to the fledgling Internet, but technology limited what marketers could do.
The rise of social media and messaging has spawned a whole host of innovative new ways to connect with, talk to and listen to consumers
A graphic designer could knock together a pretty static banner, but that was about it — file sizes had to be kept to a minimum because connection speeds were so slow.
Pop-up advertising was also possible, if the user's creaky desktop computer and whopping 4 megs of RAM could handle the trauma of another browser window opening. Life for online marketers was tough; eye-catching, ear-catching or attention-grabbing was easier with traditional methods and tried-and-true methods were what businesses trusted.
That rapidly changed. Today's connections are fast, devices are powerful and technology has evolved to allow online marketers to grab the attention of consumers in ways rivals clinging to traditional methods simply cannot match.
Video, in particular, has become a runaway success, due in large part to the increased use of mobile devices. On-the-move access has also made it easier for online marketers to tempt consumers into physical stores while they're out and about.
Meanwhile, the rise of social media and messaging has spawned a whole host of innovative new ways to connect with, talk to and listen to consumers.
Traditional marketing, by contrast, is still a one-way conversation.
Habits have changed
Pew Research reveals 21% of American adults report being online "almost constantly," and a further 42% log on several times per day. The figure for the 18-29 demographic is higher still — a total of 86% use the internet multiple times each day. In teenagers, it's 92%.
Furthermore, it's those with higher incomes — consumers most able to buy — who spend the most time online.
People are living big chunks of their lives online and we have enough experience to know they pay attention to advertising when they're there, so it's little wonder marketers are increasingly targeting their efforts to this sector.
That doesn't mean "old school" marketing should be written off. It's not like the whole population has stopped watching TV, listening to the radio or reading print media.
Though use of traditional media is declining, it's still strong enough to make older forms of advertising relevant and attractive — especially to businesses targeting their products at the over-65s.
In this age group, only 30% are online more than once per day.
The changing way consumers behave has created a strong perception of online being the future, the growth market, the way forward, and savvy marketers can successfully sell themselves to businesses with this positive outlook and highly effective data-driven targeting. By getting to know customers, marketers have an opportunity to personalize ads and offerings that traditional methods will never match.
Meanwhile, traditional advertising media has been forced into an almost defensive method of promoting itself: "Hey, don't ignore us, we can still do it!"
They can, of course — for now. But as technology continues to advance and habits continue to change, traditional marketing will become less and less relevant to businesses.
There may even come a time when it no longer matters at all.
Megan Totka
is the Chief Editor for
ChamberofCommerce.com
. ChamberofCommerce.com helps small businesses grow their business on the web and facilitates connectivity between local businesses and more than 7,000 Chambers of Commerce worldwide. She specializes on the topic of small
business tips
and resources and business news. Megan has several years of experience on the topics of small business marketing, copywriting, SEO, online conversions and social media. Megan spends much of her time establishing new relationships for ChamberofCommerce.com, publishing weekly newsletters educating small business on the importance of web presence, and contributing to a number of publications on the web. Megan can be reached at
[email protected]
.