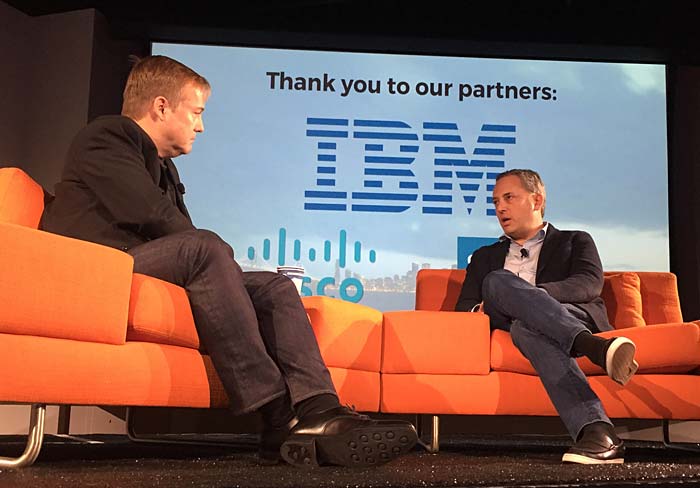 Solid advice for startup founders, from startup founders
Target audience: Startup founders and teams, entrepreneurs, angel investors, VCs, businesses, brands, digital marketers, educators, journalists, Web publishers.

As regular readers of insidesocialmedia.com know, I've attended every Launch conference and every TechCrunch Disrupt conference since the very first one back in 2007. And the past couple of years, I've attended Launch Scale, a free invitation-only event put on by Jason Calacanis to provide startup founders with insights from industry leaders and fellow founders. (I'm the co-founder and CEO of Cruiseable.)
This year's event, held Monday and Tuesday at BeSpoke in Westfield Centre in San Francisco, drew a few hundred founders to hear speakers such as angels/VCs Christine Tsai, Josh Elman, Cyan Banister, Jonathon Triest, CEOs David Sacks of Zenefits, Glenn Kelman of Redfin, Stacey Ferreira of Forge, James Siminoff of Ring, Mei Siauw of LeadIQ, author/futurist Robert Scoble and others.
Here are a few highlights and takeaways that founders who weren't able to attend should find useful.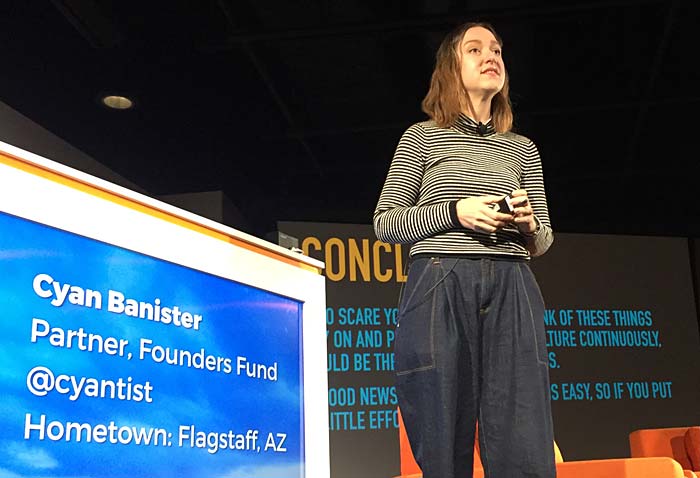 Foundational advice for startup success
Cyan Banister of Founders Fund offered some basic foundational advice to startups: Establish milestones — it's good to have "big hairy goals."
Begin by understanding what you're trying to accomplish. "What do you stand for? Write it down!"
It's not all about the numbers — don't forget to reward employees and your brand ambassadors, especially those who go above and beyond. Give people responsibility and ownership.
Be open to criticism from your team members. Take the feedback and try to become a better leader.
— Cyan Banister
Do weekly check-ins. Enable 360-degree feedback and make sure you listen to criticism from your team members. "Take the feedback and try to become a better leader," she said.
Be stingy with titles, or be flat with your organizational hierarchy. "Don't hand them out like candy. It hurts them when they move on and can't get another job because they have a title they haven't earned."
Delegate. Trust others to help you drive success. "Too many (direct) reports equals death." Once you get past a half dozen or two folks who report to you, it's time to figure out how to spread out the responsibilities.
Study your competition. "Pick things from other companies that you love and put them into your own company," she said. "But you can't just copy and paste, because you're not Tony Hsieh and Zappos." Hsieh famously said, "Zappos is a customer service company that happens to sell shoes."
Iterate. Don't pivot wildly. "Don't be afraid to change, but don't change too drastically and rip everything up, which creates distrust."
Don't routinely discard employees who aren't superstars. "If there's a trap door beneath your chair, you'll create a culture of fear. I don't recommend making your employees scared." On the other hand, if your employees are expecting a 9-to-5 culture, "they might as well go to IBM or Cisco."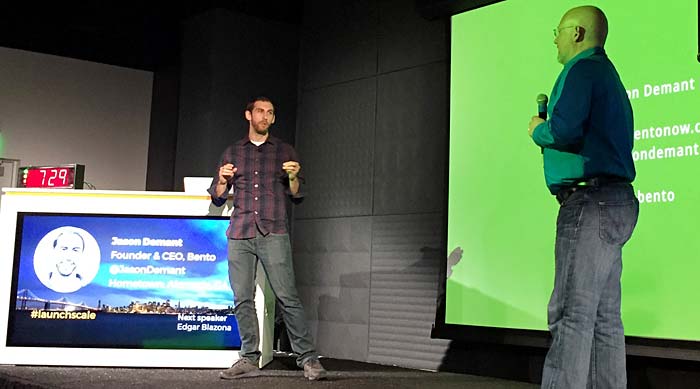 Trump, Clinton and free speech
David Sacks, former founder of Yammer and now CEO of Zenefits, answered Jason's question about Trump's election this way: "The country is very polarized right now. The last thing you want to do is bring that polarization into your company."
And while the speakers criticized those in Silicon Valley seeking to punish billionaire Peter Thiel for his support and financial backing of Donald Trump, their criticism (interestingly) drew no applause. Thiel has free speech rights, but so do the rest of us, and his being the valley's top apologist for Trump was a disgrace. If companies want to distance themselves from Trump's racism and misogyny by distancing themselves from Thiel, that's their right. It is, however, a difficult issue that the valley is still working through.
Practical advice for gaining traction
Jason Demant, founder-CEO of Bento, gave an enlightening talk about the startup's pivot from a consumer play to its new business model as a B2B2C. Bento was selling ready-made Bento boxes for $11 when it turned out that it cost $30 all told to produce and deliver. Demant ultimately had to run the numbers himself instead of relying on outside experts to do so, and so they pivoted so that they now provide instant meals for a number of already established brands like Zesty and Caviar.
I asked Demant if the change from a B2C to a B2B2C company affected Bento's go to market strategy and he said absolutely, it's completely different now, and in the short term you won't be seeing Bento branding in their marketing.
"It's hard to let go of your vision," he said. "But after we made the pivot, the team began to speak a common language with clear goals. We can now talk about margins and have a scoreboard of how we're doing. And the current investors  have more confidence in the company."
Mei Siauw of Indonesia, co-founder and CEO of freemium software LeadIQ, had several suggestions on lead generation:
First impressions make a big difference, so try to personalize everything. Up your email game. "Happy users refer others," she said. "Put a GIF inside your email to make it less boring."
Be aggressive with your marketing. LeadIQ began asking for users' phone numbers. Sign-ups dropped, but those who did register wound up converting at a 13 percent rate vs. 3.6 percent rate beforehand.
Edgar Blazona, founder and CEO of BenchMade Modern, said his startup learned not to send newcomers to their home page but to a "how it works" landing page that educates them about how they can order custom sofas online.
Craig Zingerline, CEO of Votion, said it's critical to give new customers a frictionless onboarding process. "Give them more information about your company. Give them a quick start guide, with tips and tricks. We've created 5-minute videos and the click-through rates are very high. This has been a game changer for us."
"Make it easy for them to get in touch with you," he adds. Votion uses Intercom as their online chat service, and they capture 61% of the email addresses of people who reach out to them via chat.
And, critically, make sure you respond within 15 minutes of their initial query, even if it's just to say, "I'll get back to you every 30 minutes until we have an answer." Zingerline says, "It really goes a long way. We try to establish this as part of our DNA."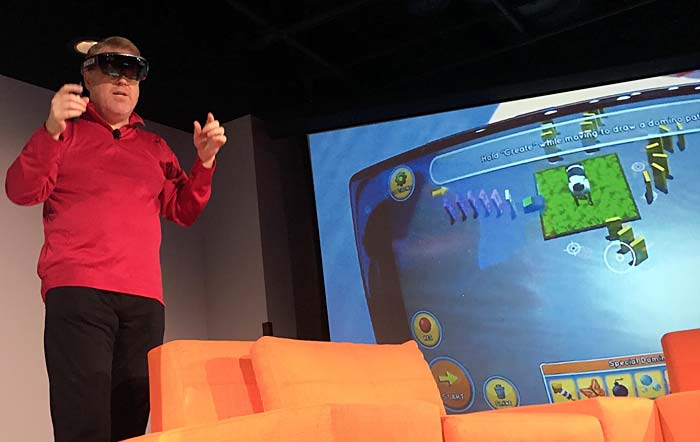 Keeping it real: 'Crush your competitors'
Matt Ocko, managing partner of dcvc, had some no-nonsense advice: "A well-run company has no irreplaceable parts. No one is indispensable."
And: "VCs don't own your life," so keep things in perspective. "Don't enter a 'doom loop' by making overly aggressive promises you can't keep."
Dr. Adir Shiffman, an Australian serial tech startup founder, investor and executive chairman of the global athlete analytics company Catapult Sports, also offered a take-no-prisoners call to arms: "If you want to become and remain the No. 1 brand in the world in your sector, crush your competitors." Don't play nice or try to forge strategic partnerships with them.
Use ruses, he said. Get your competitors to waste resources. Confuse them with misinformation. Outflank them — don't take them head on.
Patents? "They're a great shield but a terrible sword," Shiffman said, "They may help you sell the company but they're not going to help you win in the market."
Robert Scoble, co-author of the new book The Fourth Transformation, also gave a fascinating talk about "mixed reality": the intersection of augmented reality and virtual reality. I'll be writing a review here soon so I'll incorporate his talk into that review.
Lots to chew over. If there was one piece of feedback I'd offer to the program organizers for next year, it would be to get more actionable — to get over the fear of promoting for-profit companies, to foster more conversations on stage about how to reduce costs through outsourcing payroll, HR, accounting, PR, marketing surveys, etc., etc. to third parties. Even the chat with David Sacks gave no insights into why a startup might benefit from using Zenefits.
Meantime, keep an eye out for the next Launch Festival, the biggest, best and baddest startup conference in the world, coming in March 2017 (dates not yet announced).
JD Lasica, founder of Inside Social Media, is also a fiction author and the co-founder of the cruise discovery engine Cruiseable. See his About page, contact JD or follow him on Twitter.