How to take advantage of microtargeting on Facebook — at a crazy cheap price
Editor's note: Dennis Yu and his BlitzLocal team helped retool and optimize the Socialmedia.biz website two years ago. We met up again with Dennis at last month's Web 2.0 Expo, where he gave a preview of this Facebook microtargeting strategy. Today he's revealing its specifics for the first time. This is the first of a series about strategic use of Facebook.
Guest post by Dennis Yu
CEO, BlitzLocal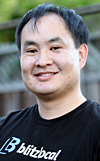 Last week there was a buzz in the CEO, Webtrends and CEO, BlitzLocal offices. One of our employees was trying to get my attention. He did so by creating a Facebook ad targeting anyone who lived in Portland, was between 30 and 40 years old and worked at either Webtrends or BlitzLocal. Of the nearly 600 million users on Facebook, only 80 people met that criteria.
It cost him only 6 cents to do it. And for that price, he was able to bombard our people with ads. The cost of that inventory is a 30 cent CPM, which means it costs 30 cents to show a thousand ads. So he was able to send 200 highly targeted messages, as he details in this post on the Facebook Microtargeting trick.
Sounds less like advertising and more like super-targeted email marketing, doesn't it?
And, in fact, it is, except for this:
• You can send these messages without needing someone's email address.
• You pay only when someone clicks it (yes, it's cost per click advertising).
• An impression is guaranteed when the person next opens Facebook (whereas in sending an email, you can only hope that someone will open it).
Now imagine that you're a software company like Webtrends, building relationships with other agencies that resell your social analytics software. The founders of the data visualization agency JESS3 come to visit and you'd like to strengthen that bond. Maybe you spend $5 on a micro-targeted campaign like the one above, but slice it up to put the ad image more compactly next to the stats. You absolutely bombard anyone who works at that firm with your message almost 3,000 times. If they have 50 people, that's 60 ads per person. Who cares that we got only 9 clicks (of which 4 happened to become fans)? The goal is not the click, but the awareness.
Total cost: $5.67 in Facebook ads
Create a specialty video with a customized message
But you could take it a step further, since those folks who do click through on the ad can come to your landing page. So imagine that we send all employees of the email marketing company ExactTarget to this Facebook landing page (warning: there is sound). And how much did this landing page cost? Only $5. We have a network of dozens of freelancers that will do voiceovers, take photos, sing songs or do whatever for a few dollars. More examples of specialty videos here.
Social media success is about pinpoint precision targets — we're simulating the one-on-one conversations that friends have among themselves
While each of these examples might be clever or interesting, the question becomes: How do you scale this? Social media success is about pinpoint precision targets — ultimately, because we're simulating the one-on-one conversations that friends have among themselves. But if you want to have 1,000 conversations, you need 1,000 different ads and 1,000 different landing pages. Who has the infrastructure, staff, or the budget to do that? Continue reading →