Millions of downloadable app fans can't be wrong

Since the explosion of Web 2.0, there's been a sense in the industry that downloadable applications for PCs and Macs are dead. Web 2.0 programming languages turned static web pages into web applications. The advantage of this now-dubbed "webware" was that you didn't have to go through the process of downloading and installing an application, often cited as a major hurdle for usage. Web 2.0 applications could work in everyone's browser (PC or Mac), no matter the configuration (usually).
If it's true that "people won't download and install applications," how come all of us have downloaded and installed applications running on our computers right now? And how come millions of people still download and install applications?
I wrote about the downloadable application issue (hot or not?) on my blog, Spark Minute. I looked at the three most successful categories of downloadable applications (communications, multimedia, and malware protection) and how they drive revenue.
I'm asking this question of myself and Socialmedia.biz readers because my company, Spark Media Solutions, has a client that's producing and distributing a downloadable application, and I'm trying to understand what does and doesn't work in the world of downloadable apps.
The application is itiBiti, a white-labeled communications and content application. Think of it like a mashup between Skype and Hulu that can be branded by any company. For example, NBC distributes NBC Communicator, which is their own branded version of itiBiti.
What makes certain downloadable applications successful?
Looking at the most successful downloaded applications I realize they all fall into two very general categories. One category consists of utilities that enhance a function of an existing application or your computer desktop. Only hardcore geeks spend the time to download install, and configure these applications.
The second category of successful downloaded applications is more widely used, and those are programs that solve a major issue that can't be handled well with a web application.
Here's a list of those successful downloadable applications, and the problem they solve that web applications can't solve.
| | | |
| --- | --- | --- |
| Category | Applications | Capabilities |
| Browsers | Firefox, Internet Explorer, Safari, Opera | Get access to the web and all its information and tools. |
| VoIP applications | Skype | Call anywhere in the world for free. Chat via video. Know when someone is available to chat. |
| Instant messaging | Yahoo! Instant Messenger, AOL Instant Messenger, MSN Messenger, Google Talk, iChat | Know when someone is available to chat and chat via text. Affords another form of communications that falls between asynchronous (email) and synchronous (voice) communications. These applications now allow for voice and video, thus merging with VoIP applications. |
| Instant messaging aggregators | Trillian, Pidgin | Unlike the telephone and email, instant messaging applications don't use the same communications standard, which requires multiple applications to be open and running simultaneously, thus draining PC resources. Aggregators can handle multiple instant messenger services in one application. |
| Microblogging aggregators | TweetDeck, Seesmic, PeopleBrowsr | Similarly, these aggregators let the user make sense of the endless stream of microblogging feeds across a host of different services. |
| Multimedia viewers | iTunes, Windows Media Player, Adobe Media Player | A means to listen, watch, manage, and purchase multimedia content plus offload that content to a handheld device (e.g. iPod). |
| Anti-Virus/Spyware | AVG, Ad-Aware, Malwarebytes, Avira, Avast, Norton Anti-Virus, McAfee | Fight off malware that enters your computer unknowingly. These programs are a requirement, because without them your computer would cease to work. |
Where can future downloadable applications be successful?
It appears that there's an opportunity for the merger of these different types of applications (communications, content, and malware protection). We've already seen it happen between VoIP and instant messaging applications. At the beginning, Skype was for voice communications and AOL Instant Messenger for text communications. Soon AOL began incorporating voice. Today, almost all the instant messenger applications allow for text, voice, and video.
The merger options are to combine
A communications application with a content application
A content application and a malware protection application
A communications application and a malware protection application
Trying to merge a communications or content application with a malware protection application reminds me of the Saturday Night Live sketch "Shimmer Floor Wax" where a couple argues if Shimmer is a floor wax or a dessert topping.
Chevy Chase: "It's durable, and it's scuff resistant."

Dan Aykroyd: "And it's delicious."
Because of the odd connection, a malware protection application mashup with a communications or content application is off the table for a mashup. The only merger option left is a communications application with a content application, which is what itiBiti does. But so much of what can make itiBiti successful is up to its partners, who distribute the product.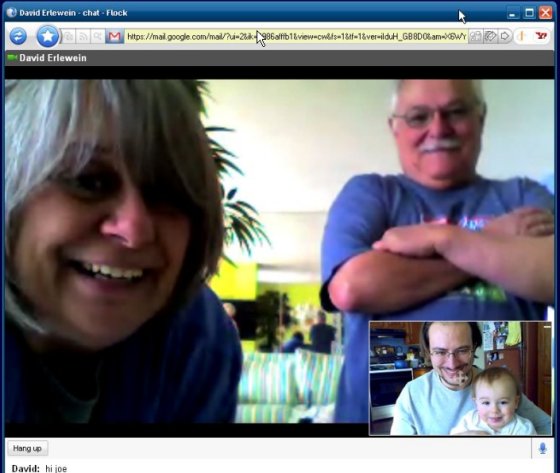 Don't just merge communications and content, mash it up
The merger of communications and content is essentially "social media." But when you bring communications to the desktop with a terminate and stay resident (TSR) program it becomes omnipresent and continuous allowing for ongoing conversation throughout the piece of content. Once again, we've already seen this happening as people tweet during a live event using hashtags and including links to photos, articles and videos. This is the goal of Tweetshare (a former client of Spark Media Solutions), which allows people to maintain Twitter conversations around a piece of content.
We're running into a situation where we need another filter to manage the combination of communications and content. Traditionally, the two filters we rely on are the wisdom of the crowd and trusted editors. The problem is the majority of content exists on the web and the majority of the conversation is happening off the web, on the desktop using the aforementioned communications tools and email.
People rely on their conversation happening off the web. The question is can content come outside the web? We've already seen a little of this with photo and video viewing utilities within TweetDeck.
That's just the nascent stages, though. The web is fantastic at delivering content on demand, but it's really poor at omnipresent communications. That's been proven by the incredible success of TSR downloadable communications applications. If we're going to have content and omnipresent communications work together more efficiently, the content is going to have to come out of the web and integrate more closely with communications apps on the desktop.
What do you think?
Creative Commons photo attributions CC Chapman and -jre-.David Spark, a partner in Socialmedia.biz, helps businesses grow by developing thought leadership through storytelling and covering live events. Contact David by email, follow him on Twitter and Google Plus or leave a comment below.